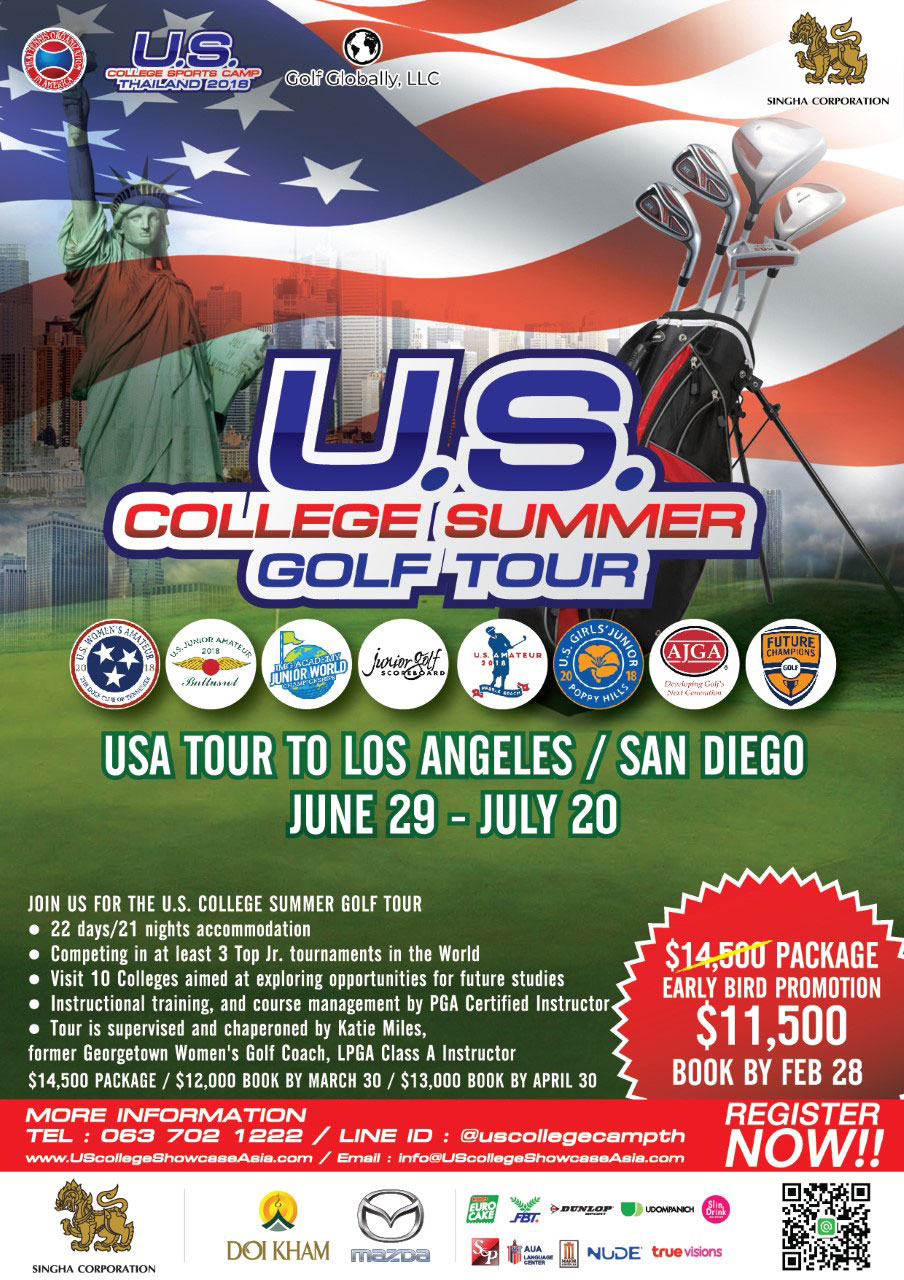 JOIN US FOR THE U.S. COLLEGE SUMMER GOLF TOUR- SAN DIEGO…
OPPORTUNITY TO COMPETE
VISITING COLLEGES AND MEET COACHES
TOUR OBJECTIVE:
U.S. College Camps just announced another "Once-in-a- Lifetime" project to help young golfers explore different opportunities available at leading U.S. Institutions in their pursuit of achieving golf and academic goals.
HIGHLIGHT INCLUDES:
Tour is chaperoned by Katie Miles, former Georgetown Women's Golf Coach, LPGA Class A Instructor, and owner of Golf Globally, LLC
22 days/21 nights accommodation: Hotel, Transportations, etc
Competing in at least 3 tournaments: 2018 U.S. Amateur Qualifier, FCG International Junior Golf Championship, IMG Junior World, FCG Callaway World Championship, or etc.
Supervised course strategy before each tournament
Instructional training and practice rounds by Cory Scoggins, Former Men's Coach and PGA Certified Instructor
Full breakfast daily, most lunch and dinner
Special opportunities for unoffical visit to meet with college coaches and talks aimed at exploring opportunities for future studies at U.S. academic institutions.
Visit 10 institutions --UC San Diego, University of San Diego, San Diego State University, UCLA, USC, Loyola Marymount, Long Beach State University and etc"
TOUR DETAIL:
22 days/21 nights in U.S.: competing in tournaments, visiting colleges, and one extraordinary golf experience. U.S. College Summer Golf Tour 2018 is specially designed by Katie Brophy Miles, a former Georgetown Women's Golf Coach and LPGA Class A Instructor, she will also personally travel with parents and prospective students the entire of the tour. You will receive a full attention just like you are already on the
college team. With the U.S. College Tour Package, your son or daughter will play at least three of the most highly acclaimed and widely pursued junior golf tournament in the world today and also visiting colleges:
Tournaments
2018 U.S. Amateur Qualify
FCG International, Jr. Golf Championship
IMG Junior World (if qualified)
FCG Callaway World Championship, and etc
Colleges:
San Diego, CA
UC San Diego Division II
University of San Diego Division I
San Diego State University Division I
Los Angeles Area, CA
UC Irvine Division I
UC Riverside Division I
Pomona College Division III
UCLA Division I
USC Division I
Loyola Marymount Division I
Long Beach State University Division I
KATIE BROPHY MILES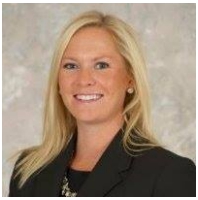 "As a former coach at an elite university in the US, I can't promote this opportunity enough. Each participant will compete in some of the BEST golf tournaments in the world. They will visit 10 universities and experience life on campus." Katie Brophy Miles, Golf Globally, LLC After 6 years as Head Women's Golf Coach at Georgetown University, Katie stepped down this past May 2017. She has started her own consulting call Golf Globally and finishing her Ph.D. at the Indiana University in 2018. Kaite came to the Georgetown in the summer of 2011 after serving as an assistant coach at Indiana University for five years. Katie earned her bachelor's degree from Notre Dame in 2006, was a three-time All-BIG EAST selection and a fourtime National Golf Coaches Association (NGCA) Scholar-Athlete. While at Indiana, Katie's duties included on-course coaching, recruiting and oversight of the budget, in addition to running the team's home tournament and various alumni events. She helped lead the Hoosiers to three top-five finishes at the Big Ten Championships over the last five years and to three postseason appearances, including playing host to the 2010 NCAA Central Regional. Five golfers earned all-league honors during that span
A native of Spokane, Wash., Katie graduated from Notre Dame in 2006, earning a degree in sociology while enjoying an outstanding playing career. A two-time captain, she recorded a school-record three tournament victories during her playing career, earning medalist honors at the 2005 Jeannine McHaney Invitational/Central Regional Preview, the 2003 BIG EAST Championship and the 2002 Peggy Kirk Bell Invitational.
In addition, Katie earned her master's degree in athletic administration/sport management from Indiana in 2009. In December 2010, Katie finished the coursework for her Ph.D., in human performance with an emphasis in sport management and a minor in telecommunications.
PACKAGE PRICE:
Package pricing starting from $11,500 per person.
Rates are per person based on double occupancy.
Package for land only cost, not including airfare. Price is without airfare. Camper will book their own travel to San Diego. Everyone will meet in San Diego Airport on June 29. If fly in LAX airport, extra $300 to pick up.
Campers will apply for their own visas to U.S.A.
50% deposit required upon registeration, and full payment by April 15, 2018.
2 Chaperone
50% deposit upon registeration, Full payment by April 15
Parent is welcome to join, deduct $1,000 from appropriate price
Encouranage Kids to register as soon as possible as we can help them scheuled best tournament to play such as US jr. Open Qualify, U.S. Amateur Qualify
Encouranage Kids to register as soon as possible as we can help them scheuled to meet with coaches for school that they like to do an official visit
Registeration closed May 15, 2018